Creatief tijdens corona
Creatief tijdens corona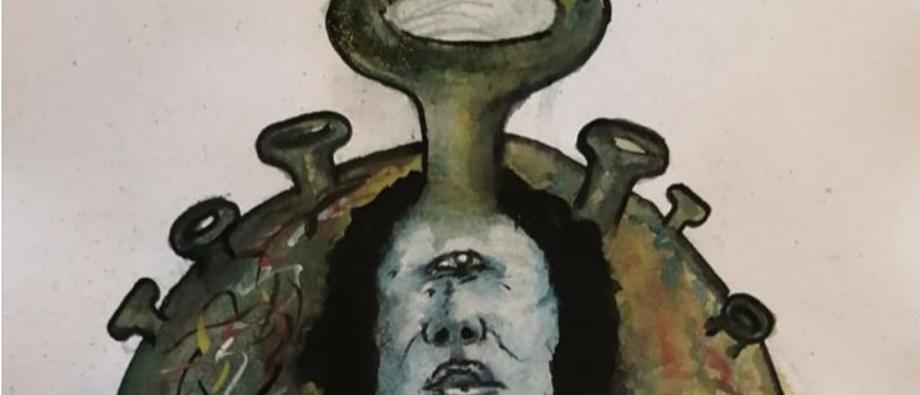 Heeft u tijdens de afgelopen periode een oude hobby van onder het stof gehaald of heeft u er een nieuwe ontdekt? Misschien zorgde de onthaasting wel voor extra creativiteit of net niet?
We vroegen het aan M, één van onze creatieve bewoners uit het centrum. "Nee, de afgelopen periode heeft mijn creativiteit niet bepaald geblokkeerd. Ik schilder, speel muziek of schrijf kortverhalen. In elk van deze 'kunsten' kan ik mijn emoties kwijt. Tijdens de afgelopen periode heb ik een nieuw schilderij gemaakt."
Kunst is een mooie taal
"Ik bekijk het centrum als een foetus…. Er is niet bepaald veel eten en leefruimte, zelfs geen welriekende plaats. Maar voor iemand die een nieuwe wereld wil betreden, is dit juist nodig. Iedereen ontstaat en groeit in moeders buik. Iedereen wordt mooi geboren en kunst is de mooiste taal die mensen in deze wereld delen. Ik hoop dat ik zo kan communiceren met de mensen van mijn nieuw land."
"I think of the center as a mother's fetus ... There is not much food and living space, not even a very fragrant place, but for someone who wants to enter a new world, this is necessary ..... Everyone grows up more beautiful in the mother's fetus. She will be born more beautiful and art is the most beautiful language shared by the people of the world. I hope I can communicate with it with the people of my new land."
Kunstendag
Op zondag 15 november organiseert de cultuurdienst van Ranst samen met de Kunstacademie van Lier SAMWDLier een kunstendag* voor kinderen. Ben je tussen 3 en 12 jaar en wil je net als bewoner M. graag de kunstenaar in jezelf ontdekken? Neem dan in de voor- of namiddag zeker deel aan één van de verschillende muzikale en/of creatieve workshops. Neem een kijkje op www.ranst.be/kunstendag voor meer info. Ouders zijn ook van harte welkom en kunnen ondertussen genieten van een hapje en een drankje in het kunstencafé.
* Deze activiteit gaat enkel door indien de omstandigheden en de covid19-maatregelen het toelaten. Een initiatief van de Vlaamse overheid.