EPRA
EPRA
The European Platform of Reception Agencies (EPRA) is a European exchange network. It is a forum for national administrations responsible for reception with the focus on strategic aspects. Through this platform, Fedasil wishes to encourage sharing of strategic information at management level and improve effective, efficient and informed management of the reception of asylum seekers in Europe and Belgium, thus contributing to the development of a Common European Asylum System.
Fourteen countries are currently EPRA partners: Austria, Belgium, Finland, France, Germany, Ireland, Latvia, The Netherlands, Norway, Poland, Romania, Spain, Sweden and the United Kingdom. Malta also participates as an observer.
EPRA and Enaro pursue different but complementary goals, Enaro placing the emphasis on the exchange of good practices between workers in the field.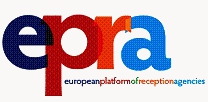 EPRA's activities
Full round sessions are organized two times a year and focus on exchanges on strategic level. Thematic working groups are also organized two times a year and give the opportunity  to learn and talk about reception practices on specific topics. The themes tackled by EPRA include:
The asylum chain, reception and return, or how to best integrate the different links of an integrated asylum, reception and return policy
How can we define, measure and manage an appropriate and flexible reception capacity, in particular when the reception is organised (in part) by external operators or partners?
How can we define and guarantee the quality of a reception policy?
Managing the reception of people with specific needs
Reception standards 
Management of the reception budget
Download EPRA briefing note (December 2015).